About Finart
Finart Corporate Services is a consulting company, operating worldwide. It offers comprehensive counselling and representation in legal and financial areas, helping clients pave the way towards their ultimate vision.
Finart's goal is to deliver trusted advice and guidance through a combination of technical insight, knowledge, and years of experience that their team has.
Finart's online presence was almost invisible, as they had no webpage and no constant posting on social media platforms. As a company targeting audiences spread in a vast area, they had to represent themselves in the digital realm better.
Website
Simplifying navigation
We started from the basics, by developing a captivating website, built and designed by us. Finart had a brand book, so we took inspiration from what they actually had, to further grow their identity. 
Colours
We expanded the colours through the whole website, using their prominent red and green in details, and creating a sharper contrast with the white and blue as a base. 
Shapes 
To create a structured path for the audience's eyes when digesting information, we decided to use blocks of information; literally.
We built the copy in simple, separate paragraphs, and put each of the text fragments in colour blocks. This will immediately create a divide in information and make it easier for the readers to skim through, ultimately giving a better User Experience.
Web Copy
Structuring information
As a consulting company, Finart is a particular client, working in a very specific field, one that does not tolerate misunderstandings and vague sentences. 
First, we researched and gathered information about what they do, and how to best describe their work, without making it overly complicated or over abstract. 
 That's why we decided to use a simple tone of communication, that would get the point across, without being very technical, but still managing to keep a formal vibe.
Slogan
The world of business is changing by the day. New opportunities arise and big, impactful changes are inevitable. Companies of every field have to be more data-driven, fast, performative, and agile. 
In a world where breaking news is around the corner, businesses have to be constantly prepared, structured and systematic to get the work going. Entrepreneurs have to be always open-minded to being a lifelong learner. 
All these difficulties that companies have to endure, no generation ever had to. These are all 21st-century challenges that need to be addressed and resolved with remarkable performance and timing. 
Deliberating, we found what the target audience's pain point is, that's why the slogan we decided on was:
"Providing solutions for the modern-day entrepreneur."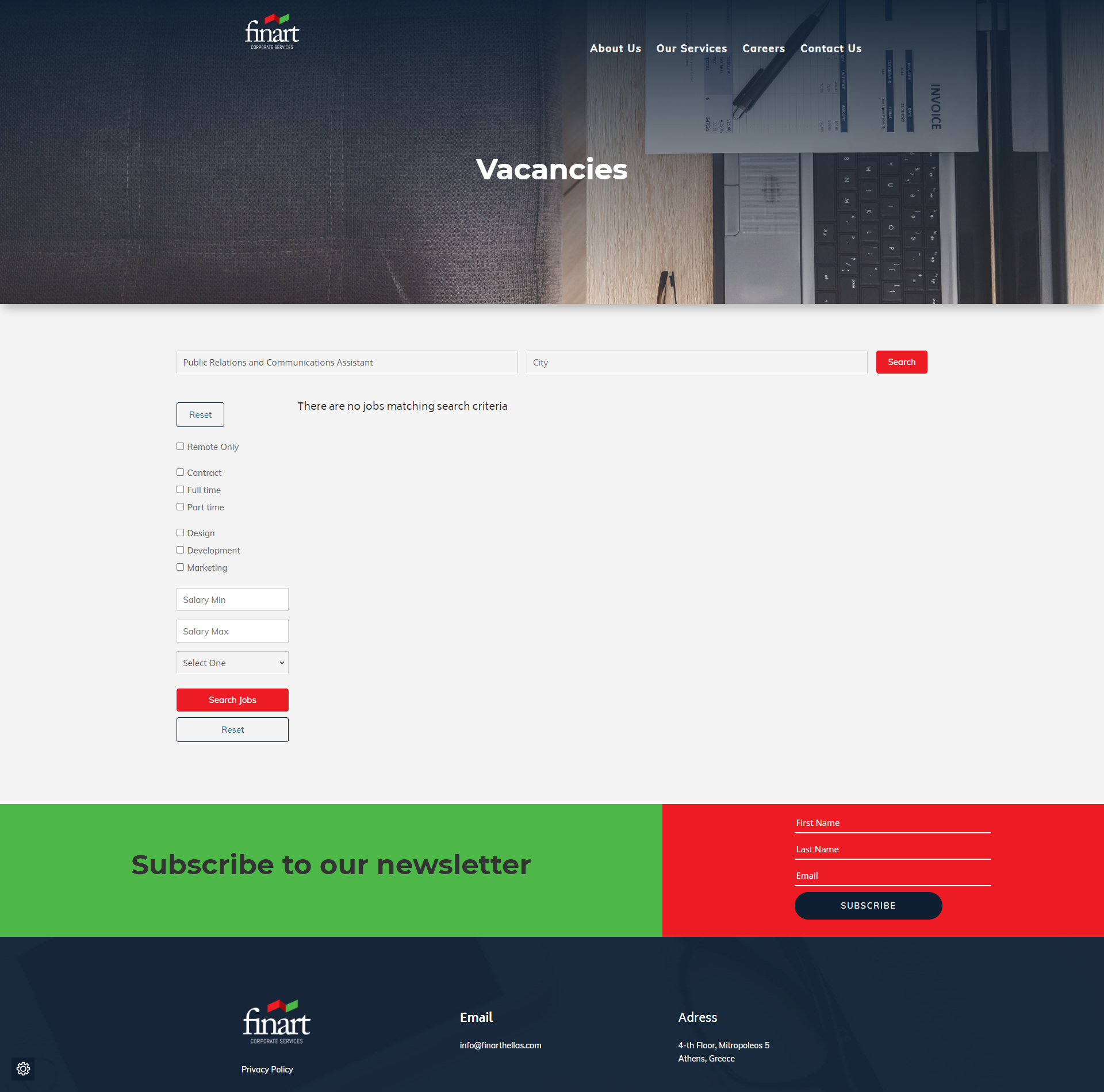 Job Board
Another pressing challenge for Finart was their recruiting funnel. As a company that operates in several countries around the globe, they aim to create a more diverse environment and team.
To give a solution, we built a specialcareers section on the website, alongside a job board. Thanks to it,
Finart can post their job advertisements and candidates can look for a job opening relevant to their search intent.
Overall, Finart had a major challenge in their corporate identity; create one visible to every prospect online. We delivered this and more. Now Finart has a useful, responsive website for every passerby, worker, and future employee.